Thanks everyone for the supportive comments on yesterday's post! I got home and in bed at 8am and fell immediately asleep and woke up at about 4. Then Christopher brought me some fruit loops (thanks for the idea Ellen!) and made me spaghetti and let me pick out whatever movie I wanted to watch. So we watched Twilight. Again.
I just took my our lab Molleigh for a walk to the mailbox. We live on a dirt road and it's .5 miles from the head of the road to our house. So Molliegh dragged me the whole way there and back and my leg muscles are twitching so bad!!! I never ever work out, so a mile walk is HUGE for me. I really need to lose some weight, so may be I can make this a regular thing. I have 5 dogs, so a different dog a day! But it was so so pretty outside and I just smelled flowers everywhere! It's nice and warm today too. Although Molleigh has obviously forgotten how to walk on a leash, I think she still had fun!
Here are a couple pictures from our walk, and then some previous pictures I have taken of our land and house! Most of them are cell phone quality, sorry!
Here's Molleigh on our walk!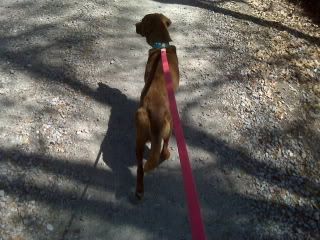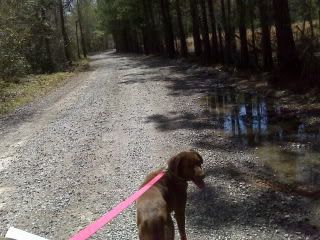 Our house and front yard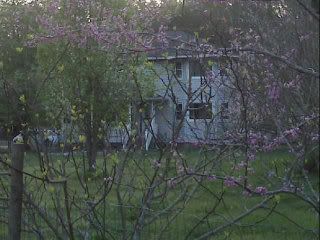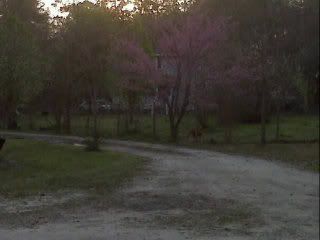 Christopher walking ahead on our driveway! Georgie my Beetle Bug is in this pic too ;)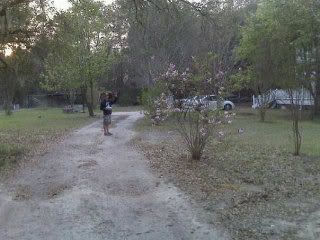 Here is Kain, Maddox, and Molliegh. Kain is Christopher's BFF's dog that we are keeping for a year and a half. The BFF is stationed in North Dakota and can't have the dog in a single soldier barrack, so here he is at our house. So I now house 5 dogs and a cat! BTW Kain is NOT pooping n this picture, he's going to sit down.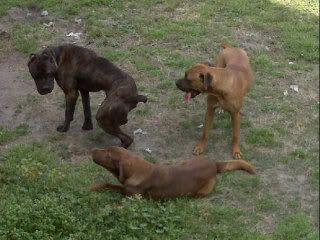 ~~~~~~~~~~~~~~~~~~~
BTW- I still have not received my socks for the sock exchange :( That makes me kinda sad...